This post may contain affiliate links, which means I may receive a small commission, at no cost to you, if you make a purchase.
When it comes to alternatives to foundations, the best Korean CC creams are incredible and reliable options. 
Combining makeup and skincare, this type of product helps you achieve a flawless and glowing complexion without that heavy feel associated with foundations. 
But what exactly are CC creams? How do they differ from other types of base makeup products? And how do you find the right CC cream for you?
That's what we're here to talk about in this article! 
Read on to learn more about Korean CC creams and discover how to select the right one for your needs!
Best Overall
Formulated with hydrating ingredients like hyaluronic acid
Can be used to achieve different finishes, including matte and satin
Fragrance- and paraben-free
Budget Pick
Has a lightweight but long-wearing formula
Contains Centella asiatica extract that has hydrating and soothing effects
Suitable for all skin types, including sensitive and acne-prone skin
Premium Pick
Crafted with botanicals like bamboo sap and green tea
Lightweight formula with light to medium coverage that provides a smooth and soft finish
Suitable as a daily-use product
What Are Korean CC Creams?
Originating from South Korea, the CC cream or color corrector cream is a multifunctional K-beauty product that helps simplify the makeup process.
Not only does it act as a foundation that helps you create a flawless base for the rest of your makeup products, but you may also use it as a spot corrector, color corrector, and concealer. 
What sets CC creams apart from other base makeup products like liquid foundations or BB creams is that they can help neutralize unwanted undertones in your skin.
This is because they come in certain colors or contain certain color pigments that combat these undertones, which include the following:
Green minimizes redness.
Pink and peach help brighten the skin and minimize any dullness or grayness.
Purple conceals unpleasant yellow undertones and helps brighten dull skin.
Beige and orange help hide purplish circles under the eyes and conceal uneven skin tone.
CC creams are also lightweight and less heavy than traditional foundations but can provide more coverage than BB creams. 
On top of that, they usually have added skincare ingredients to improve the texture and hydration levels of the skin over time. 
They typically also contain SPF, helping fight premature aging due to sun damage. 
How To Choose the Right CC Cream
If you're shopping around for Korean CC creams, there are a number of considerations you should make. 
Here are some things to remember when choosing the best Korean CC cream to use:
Skin Type
When you're considering buying a product that you need to apply to your skin, you should always, first and foremost, think about your skin type.
Makeup and skincare products, such as CC creams, are not formulated the same. Some work well with one skin type but make another look much worse.
Here are the five basic skin types:
Normal skin: Normal skin has the right balance of moisture and dryness, so most products can work well on this skin type. 
Oily skin: This skin type is distinguished by the overproduction of oil or sebum on the skin. So lighter CC creams without too many oils are ideal for this skin type because they won't add more shine to the skin. 
Dry skin: Dry skin is visibly parched and often flaky. This skin type benefits from products with ultra-hydrating and moisturizing ingredients.
Combination skin: This skin type has an oily T-zone while the rest of the face remains dry. Products with hydrating ingredients that aren't greasy are great for combination skin.
Sensitive skin: This skin type is easily aggravated by common irritants, which make the skin red and inflamed. CC creams that contain soothing ingredients like Centella asiatica are best for sensitive skin.  
Skin Tone
When choosing a CC cream to buy, take note that many Korean CC cream brands have a limited shade range, usually only catering to the common skin tones in South Korea.
However, as more and more people embrace this trend, many K-beauty makeup brands have started churning out more inclusive shade ranges. 
So make sure to select a CC cream that comes in a wide variety of shades so that you can find the one that perfectly matches your skin tone. 
Skin Issue
Keep in mind as well that most of the best Korean CC creams also come in color-correcting shades or have color-correcting formulas. 
So you can choose a CC cream that targets the skin issue you're trying to address. 
For example, if you're trying to cover up redness, you can go for a green CC cream. If you want something that brightens dull or sallow skin, choose a pink one.
Aside from considering your chosen CC cream's color-correcting capabilities, it's also important to make sure its ingredients and formula are suitable for your skin issues. 
For instance, if you have acne-prone skin, you should go for products with non-comedogenic ingredients or formulas, which can clog the pores and further contribute to acne.
Now if you have mature skin, it's a good idea to choose CC creams that can refine your skin's texture, conceal fine lines, and protect against sun damage that can worsen signs of aging.
9 Best Korean CC Creams To Try
Looking for the top Korean CC creams that can give you the flawless skin you've always wanted? 
We've come up with a list of the best options on the market for you.
1.
This CC cream's lightweight texture and impressive coverage make it a must-try!
Key Benefits: Provides medium to full coverage; ensures comfortable wear; helps nourish the skin
Features:
Formulated with hydrating ingredients like hyaluronic acid
Can be used to achieve different finishes, including matte and satin
Fragrance- and paraben-free
In need of a CC cream with a vast range of shades? Try this one!
Are you looking for one of the best CC creams in Korea? Look no further than this CC cream from CLE Cosmetics!
CLE's CC cream provides up to full coverage as a foundation, and you can change its finish based on how you use it.
Want an incredible matte finish? You can use a buffing brush and top it off with powder. Need a satin finish? Apply it to your face using your fingers. 
Want to achieve glowy glass skin? Apply this CC cream with a damp sponge or a Beautyblender. 
Apart from this, it's also lightweight and highly nourishing. It even helps you hydrate your skin and combat uneven skin tone because it contains skin-loving ingredients like hyaluronic acid and niacinamide.
Plus, it comes in a wide range of shades, catering to fair, medium, and deep skin tones.
2.
If you want a flawless complexion, this is a holy-grail product for you!
Key Benefits: Hydrates the skin; soothes irritation; defends the skin against harmful UV rays 
Features:
Flawless and illuminating finish
Formulated with Centella asiatica, which offers a hydrating and soothing effect
Contains SPF 25
Experience what other people are raving about by trying Erborian's CC Creme!
If you want a tried-and-tested CC cream trusted by thousands of satisfied users, you can never go wrong with this product. It helps you achieve a flawless but natural-looking complexion with a healthy glow!
It also offers light, buildable coverage that can correct uneven skin tone and improve skin texture, which is why it's considered one of the best Korean CC creams for mature skin that can conceal dark spots and refine wrinkles.  
Moreover, it's infused with Centella asiatica extract, which helps hydrate and soothe easily irritated skin. 
It also offers great UV protection, helping prevent any damage from the sun.
3.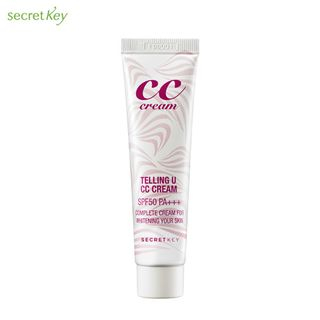 Want gorgeous, shine-free skin? Try this CC cream from Secret Key!
Key Benefits: Helps control sebum; helps brighten skin tone; moisturizes the skin
Features:
Smooth, natural-looking finish
Created with a color-changing formula to suit different skin tones
Contains arbutin to give the skin a brighter glow
Say goodbye to thick, heavy foundation that looks unnatural and say hello to lightweight, natural-looking coverage!
This CC cream's claim to fame is that it features porous powder that can help control excess oil for a smooth, flawless, and shine-free look. This makes it an excellent Korean CC cream for acne-prone skin.
Plus, it's made with a color-changing formula that allows it to blend seamlessly into many different skin tones. Thanks to this, it gives you a more natural makeup look while eliminating unwanted shine.
Other than providing an amazing base, it also helps moisturize your skin and provides broad-spectrum sun protection. 
4.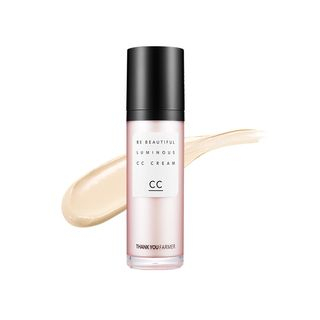 For a luminous glow that lasts, you can rely on this product! 
Key Benefits: Helps brighten and even out skin tone; firms up the skin; nourishes and moisturizes the skin
Features:
Formulated with niacinamide that offers unparalleled skin-brightening capabilities
Contains vitamin E for added nourishment 
Equipped with SPF 30 
Eliminate dullness easily with the THANK YOU FARMER CC Cream.
If you're looking for a CC cream that can help brighten up extremely dull skin, this one from THANK YOU FARMER is a great contender.
To help give your skin a lively glow, this CC cream contains niacinamide that corrects uneven skin tone and tiny pearl beads that lend radiance to your skin. 
It even contains vitamin E and adenosine that help improve skin elasticity for a younger-looking complexion. 
Best of all, it ensures smooth application and gives you sun protection.
5.
Reviews of this Korean CC cream say its lightweight formula lasts all day without streaking or creating a mess!
Key Benefits: Offers incredible buildable coverage; hydrates and nourishes the skin; protects the skin from sun damage
Features:
Crafted with botanical ingredients like bamboo sap and green tea
Designed to provide a smooth and soft finish
Has SPF 50+ broad-spectrum UV protection
Tired of dealing with sallow skin and unsightly texture? Get Amorepacific's Color Control Cushion Compact to achieve beautiful skin without a hitch!
The best CC cream from a well-loved Korean brand, the Amorepacific CC cream is packaged in a cushion compact for easy and convenient application.
It works well in covering dullness, dark spots, and uneven skin texture, giving you lightweight, flawless, long-lasting coverage that's buildable, making it a great daily-use product.
But those aren't the only great perks this product has to offer. One of its main draws is its broad-spectrum UV protection, which can help protect your skin against UVA and UVB rays.
It's also highly nourishing, thanks to the bamboo sap and green tea in its formula, which helps hydrate the skin.
6.
Searching for the best Korean CC cream for oily skin? Your search ends here!
Key Benefits: Enhances the skin's natural glow; helps hydrate and nourish the skin; corrects unwanted tones in the skin
Features:
Multifunctional formula that provides a natural finish
Contains a hydrating essence
Has a lightweight formula with SPF 15
If you want a my-skin-but-better look, AGE 20's Tone Up Base is your best bet!
Another one of the best CC creams from Korea you should have on your radar is this one from AGE 20. It works best if you want a color corrector to enhance your skin.
It comes in three shades: green to minimize redness, pink to minimize dullness, and purple to help counteract excess yellow tones in the skin. 
It also has a lightweight formula that doesn't feel too greasy and contains a hydrating essence, which is why it's considered the best Korean CC cream for combination skin.  
Additionally, it enhances your skin's texture and gives you a radiant glow. It won't rub off once it's applied, so it ensures all-day wear.
7.
Many users can't get enough of this CC cream because of its impressive color correction and incredible UV protection.
Key Benefits: Evens out skin tone; helps prevent signs of aging; moisturizes the skin
Features:
Contains nourishing ingredients with anti-aging benefits
Has SPF 50 
Free of added mineral oil, alcohol, and parabens
Protect your skin from stressors while enhancing its appearance with 3W Clinic's Crystal CC Cream!
Given its light, lotion-like texture, you'd be surprised at how well this CC cream helps your skin achieve a natural and flawless-looking finish.
It helps smooth out and minimize the appearance of creases, wrinkles, and fine lines.
It also has a smooth, lightweight texture that easily blends into your skin. When applied, it helps brighten your skin tone and even out any dull spots. 
Its other features include nourishing ingredients and top-notch UV protection, featuring anti-aging ingredients and SPF protection.
So it not only minimizes the appearance of wrinkles but also prevents signs of aging from appearing on your skin in the first place. 
It's also safe for sensitive skin, as it's free of irritants like parabens, triethanolamine, and mineral oils.
8.
This CC cream is rising in popularity, and it's easy to see why!
Key Benefits: Helps make the skin look radiant; protects the skin from sun damage; provides hydration and nourishment; evens out skin tone; covers up blemishes
Features:
Silky smooth, natural finish
Contains niacinamide, rice bran extract, hyaluronic acid, and vitamins C and E
Lightweight texture
Create a bright, radiant-looking base with the MOTHER MADE AquaLight CC Cream!
Another great CC cream you can get your hands on is this one from MOTHER MADE. The brand's AquaLight CC Cream helps you achieve a natural-looking base with a lightweight feel. 
It provides light to medium buildable coverage, which is enough to create a smooth, even complexion and cover up blemishes. And it comes in a neutral beige shade that works best on fair skin.
In addition, this CC Cream also comes with hydrating and nourishing ingredients like hyaluronic acid, niacinamide, vitamins C and E, and rice bran extract.
9.
If you need a long-lasting formula that helps you achieve your makeup goals, this CC cream is for you!
Key Benefits: Brightens dull skin; conceals imperfections; evens out skin tone; protects from UV rays; hydrates and nourishes the skin
Features:
Designed to act as a primer, skin brightener, and blush booster
Packed with nourishing ingredients like camu camu fruit extract and hyaluronic acid
Comes in five shades to choose from based on your skin's needs
Get exactly what you need to create a smooth, stunning, and flawless-looking complexion with JUNGSAEMMOOL's Tone-Up Sun Base!
Last but certainly not least on this list is JUNGSAEMMOOL's Skin Setting Tone-Up Sun Base. This product features a long-lasting formula that provides you with a flawless complexion.
It comes in five different shades that deliver different benefits, and you can select one based on how you want to improve your complexion. 
Its shades include a pinkish shade to brighten your skin, a greenish shade to balance out redness, a beige shade to make your skin glow, a white shade to smooth out your skin, and a yellow shade to help you achieve an even skin tone. 
Also, it contains skincare ingredients and UV protection, so it helps protect your skin and keep it healthy.
You can even use this product as a primer to ensure your makeup lasts all day and mix it with your powder blush to make it creamy, allowing for easier application. 
And as the best Korean CC cream for dry skin, it features a mineral complex and hyaluronic acid for added hydration and camu camu fruit extract for nourishment.
Frequently Asked Questions 
Can I Use Korean CC Creams as Sunscreen?
While many of the best Korean CC creams have SPF, these are usually not strong enough to have enough protection from harmful UV rays.
Remember that CC creams with SPF shouldn't be used as a substitute for sunscreen, but they're great to use in addition to your sunscreen.
When Should I Apply Korean CC Creams in a Skincare or Makeup Routine?
Since a CC cream is a product for your makeup base, it's best to apply it after you've put on your moisturizer and sunscreen.
Can I Use CC Creams Daily?
Yes, you can. Most CC creams are lightweight, and they're infused with beneficial skincare ingredients. 
This means they're safe to use every day, and they can be used for casual, natural looks. 
Achieve a Smooth, Refined Complexion With the Best Korean CC Creams
When it comes to makeup, Korean CC creams are great products to use if you want an alternative to heavier traditional foundations.
As a product for your makeup base, it's one of the most versatile ones out there. It can correct your skin tone, cover up imperfections, and even improve the condition of your skin with regular use. 
Hopefully, this article has helped you learn more about this makeup product and find the right Korean CC cream that will help you achieve your makeup goals and simplify your beauty routine!
Ready to ditch your foundation for a CC cream? Get a product from the options we've listed above and enjoy reaping all its amazing benefits!
Want To See More Korean Makeup and Skincare Products?
Check out these articles: